Distinguished Fellows make it possible for the Bar Foundation to meet its goals. Distinguished Fellow status is attained in a variety of ways, including a gift through Voluntary Enhanced Dues. An individual also may leave a gift to the Foundation or may establish a memorial in honor of a deceased family member, friend or colleague. Under the Distinguished Fellow category are five levels of giving: Diamond, gifts totaling $25,000; Platinum, gifts totaling $15,000; Gold, gifts totaling $10,000; Silver, gifts totaling $6,000; and Bronze, gifts totaling $3,500. The Foundation Board of Directors commends Distinguished Fellows for their commitment and generosity.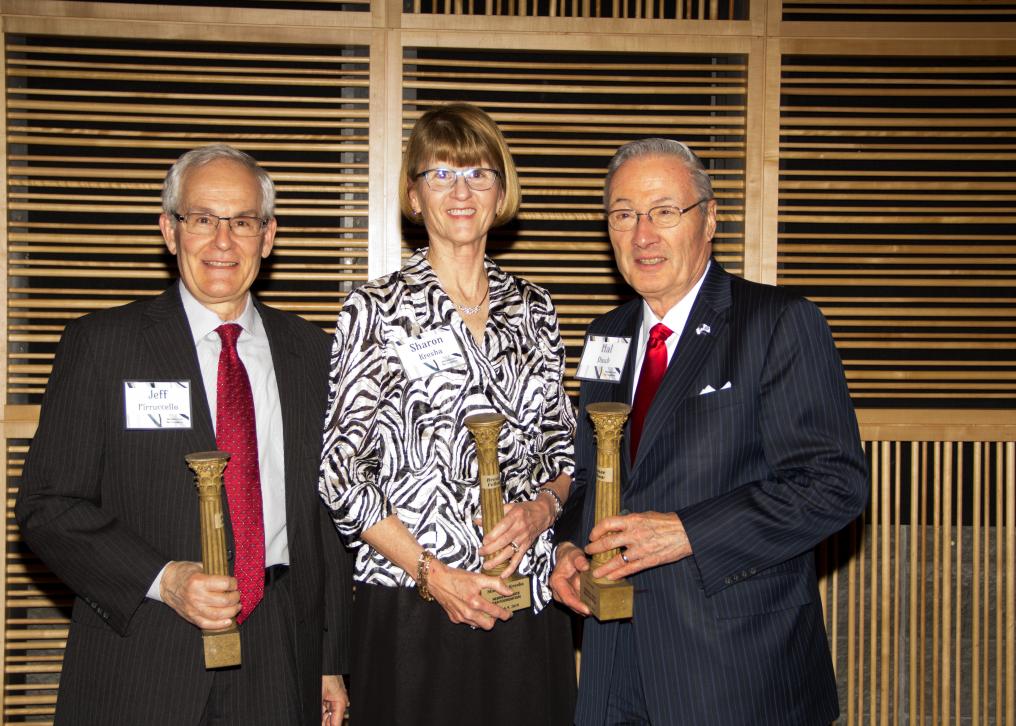 Bronze Fellows-$3500
Cathleen H. Allen
Ralph M. Anderson, Jr.
Brad Ashford
Arend R. Baack
Hon. C. Arlen Beam
Kelvin C. Berens
*Claude E. Berreckman, Sr.
Claude E. Berreckman, Jr.
Ralph A. Bradley
John C. Brownrigg
*Clayton D. Byam
James A. Cada
Pam Hastings Carrier
Hon. John A. Colborn
Charlotte Jean Conner
Harold J. Daub, Jr.
John W. Delehant
*David B. Downing
*Kenneth H. Elson
Irving B. Epstein
James P. Fitzgerald
Keith I. Frederick
John H. Fullenkamp
Stephen S. Gealy
Stanley C. Goodwin
Gary M. Gotsdiner
*J. Taylor Greer
Steven E. Guenzel
Richard L. Halbert
Camille R. Hawk
*Hon. Jack H. Hendrix
James W. Hewitt
Barbara L. Hosford
Hon. Everett O. Inbody
Julie Jorgensen
Howard J. Kaslow
*James M. Knapp
Richard A. Knudsen
*James A. Lane
William J. Lindsay, Jr.
Timothy D. Loudon
Christine A. Lustgarten
J. Terry Macnamara
*Jack W. Marer
Steven F. Mattoon
*Hon. Hale McCown
John B. McDermott
*Joseph W. McNamara, Jr.
Jodie Haferbier McGill
*M. Alex Mills
*John E. North
*Hon. Robert E Otte
*Bert L. Overcash
Edith T. Peebles
Patricia S. Peterson
Jeffrey J. Pirruccello
Edward F. Pohren
Mara L. Rasure
*Albert T. Reddish
William J. Ross
*Hon. Gerald E. Rouse
*Carlos E. Schaper
Paul M. Schudel
*James I. Shamberg
*Robert G. Simmons, Jr.
Galen E. Stehlik
Hon. John F. Steinheider
Amy L. Van Horne
Robert R. Veach, Jr.
*Archibald J. Weaver
Neil E. Williams
Silver Fellows-$6000
*Duane W. Acklie
*John H. Binning
Thomas E. Brogan
*James W.R. Brown
*Vincent D. Brown
Dennis W. Collins
*C.J. Gatz
Chief Justice Mike Heavican
*Lynn D. Hutton, Jr.
Sen. Michael O. Johanns
Thomas M. Locher
Theodore L. Kessner
Sharon R. Kresha
*Lloyd L. Pospishil
Julie A. Shipman-Burns
Gold Fellows-$10,000
Thomas B. Fischer
*Hon. William C. Hastings
*Hans J. Holtoft
*Harold W. Kay
*Otto Kotouc, Jr.
John F. Kotouc
Robert D. Mullin, Jr.
*Robert G. Scoville
*Robert M. Spire
Hon. Lyle E. Strom
*Otto H. Wellensiek
Robert V. Dwyer
Platinum Fellows-$15,000
*Alfred G. Ellick
Kile W. Johnson
Diamond Fellow-$25,000
*Milton R. Abrahams
*Wilber S. Aten
*Robert H. Berkshire
*Thomas M. Davies
*Daniel J. Gross
Deryl F. Hamann
*Sen. Roman L. Hruska
*Daniel D. Jewell
John F. Kotouc
*Hon. Ben Novicoff
Allen L. Overcash
Gary W. Radil
*Marvin G. Schmid
Charles V. Sederstrom
*George E. Svoboda
*Governor Charles Thone
*H. Laurens Williams III
*Charles E. Wright
*William F. Wright
* Deceased