The Nebraska State Bar Foundation is dedicated to serving the citizens of Nebraska and the legal profession through the administration and funding of innovative and creative programs directed toward the improvement of the administration of justice and the fulfillment of the American vision of equal justice for all.
Foundation History
On November 20, 1963, the Nebraska State Bar Foundation was incorporated as a 501(c)(3) charitable and educational organization to serve as the philanthropic arm of the legal profession in Nebraska.
Seven attorneys established this futuristic organization more than 50 years ago, and it continues to give back to the legal profession and the community to benefit Nebraska citizens.
The Bar Foundation's Civics Education programs and its philanthropic endeavors -  including the Hruska Institute, Dan Gross Fund, Dan Jewell Trial Institute and Standing Bear Scholarship - are funded and administered by the Foundation to complement its goals.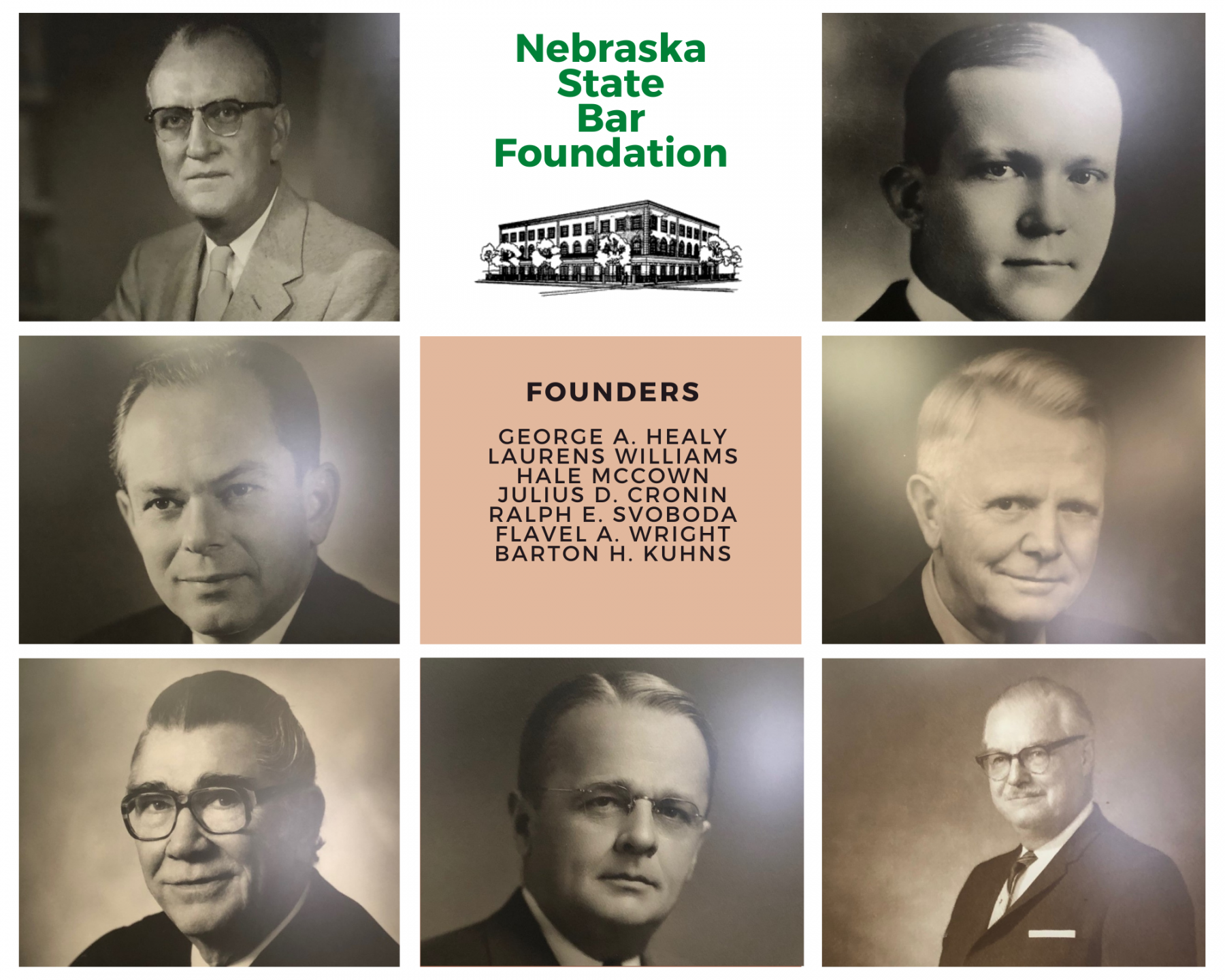 Foundation Goals
To advance the science of jurisprudence;
To promote and improve the administration of justice;
To uphold the high standards for the judiciary and lawyers;
To facilitate understanding of and compliance with the law, and to promote the study of law, research therein, and the diffusion of knowledge thereof;
To cause to be published and distribute addresses, reports, treatises and other literary works on legal subjects, and to acquire, preserve, and exhibit rare books and documents, objects of art, and items of historical interest having legal significance on the bearing of the administration of justice;
To aid the charitable and welfare purposes of active practicing Nebraska lawyers and their families through the relief of the poverty of such lawyers and their families;
Pursuant to Neb. Rev. Stat. § 21-1927(b), to provide for erecting, owning, leasing, furnishing or managing any building, lands or grounds for the use or benefit in whole or in part of the State of Nebraska for administration of justice and the improvement of the service rendered to the public by the judiciary;
To do and perform all acts and things which are legitimate and are reasonably calculated to promote interests and carry out the purposes of the organization.
The Foundation's goals are accomplished through the generous support of lawyers, judges and other interested people who willingly provide financial support to the Bar Foundation. These monetary resources help the Foundation fund its educational programs and its philanthropic endeavors.