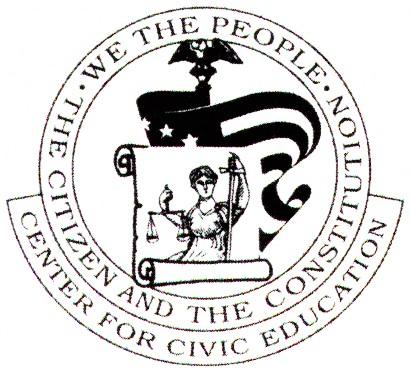 The primary goal of We the People: The Citizen and the Constitution is to promote civic competence and responsibility among elementary and secondary students.
Curriculum
The foundation of We the People (WTP) is the classroom curriculum. It complements school curriculum by providing upper elementary, middle, and high school students with an innovative course of instruction on the history and principles of constitutional democracy in the United States. WTP fosters attitudes necessary for students to participate as effective, responsible citizens and fully complies with the Nebraska State Standards for civics and government.
We the People textbooks are designed for a range of student abilities and may be used as a supplemental text or for a full semester of study. Classroom sets of textbooks may be ordered through the Nebraska State Bar Foundation or the Center for Civic Education at civiced.org. Sets include 30 student books and a teacher's guide. The teacher's guide for each level contains lesson plans and suggested activities. Additional curriculum resources are available on the Center's website.
Teacher Professional Development
The Nebraska State Bar Foundation provides Teacher Professional Development to include presentations by scholars on textbook content. A Nebraska mentor teacher experienced with the We the People curriculum follows with critical thinking exercises, problem-solving activities, and cooperative learning techniques to assist teachers in developing intellectual and participatory skills to increase student understanding of American constitutional democracy. Information on future professional development events will be posted on the Bar Foundation website.
Classroom Use of Curriculum
Teachers who have received professional development are encouraged to use curriculum and activities in their classrooms. The curriculum is appropriate for regular, advanced placement, and ELL classrooms. Teachers are encouraged to use questions for each unit of the textbook,  accessed at the Center for Civic Education website, to conduct simulated congressional hearings as a culminating activity. Working in teams, students prepare and present statements before a panel of representatives who act as congressional committee members. Students then answer questions posed by the committee members. The format provides an opportunity for students to demonstrate their knowledge and understanding of constitutional principles and provides teachers with an excellent means to assess performance.
Annual We the People Nebraska High School Finals
The Bar Foundation sponsors the Nebraska State We the People High School Finals annually at the University of Nebraska Law College in Lincoln. High school teams, each comprised of a rostered class that has used the We the People curriculum, compete with simulated hearings before community members.
The winner represents Nebraska at the National We the People Finals in late April in the Washington, D.C., area. More than 1,200 high school students and their teachers participate annually in the National Finals. While in Washington, students also have an opportunity to visit historic sites and meet with members of Congress and other dignitaries.