The 2018 State Championship marked the inaugural Mock Trial Student News Reporter Contest.
The Student News Reporter Contest is offered at both the regional and state level. Each team qualifying for state could add a student news reporter. This will enable schools to draw students from other academic areas and offer more educational opportunities as part of  the Mock Trial Program. The contest was created to help students practice news reporting skills at the local level.
At the State Championship, participating students will observe and then report on the first-round trial. Students will meet with media professionals who will serve as mentors and with a sitting judge. Components of a trial will be explained, and students will receive advice from the news media professionals. The contest is intended to help students learn to identify and report the important facts of a trial to the public in a complete, concise and objective manner.
The Student News Reporter Contest adds another realistic component to the Mock Trial competition. It was developed through a collaboration of the Bench Media Committee of the Nebraska State Bar Foundation; Doris Huffman, Executive Director of the Foundation; and Jim Timm, President and Executive Director of the Nebraska Broadcasters Association.
Student New Reporter General Information
Student News Reporter Student Guide
Student News Reporter Score Sheet
Basic Legal Definitions-Students participating in the Student News Reporter Contest will need to print the list of Basic Legal Definitions before Regional and State Mock Trial Competitions.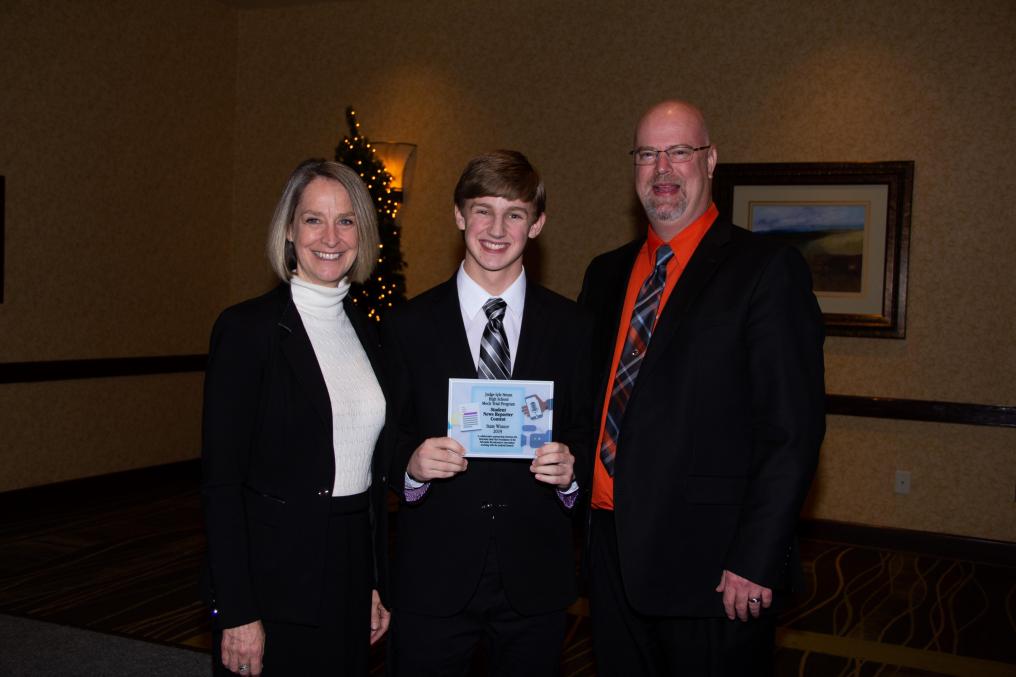 The 2019 Judge Lyle Strom High School Mock Trial Students News Reporter winner is Damon Bennett of Northwest High School. Taegan Jacobs, a student at Bellevue West High School, was the first winner in the Judge Lyle Strom High School Mock Trial Student News Reporter Contest.