PEOPLE Committee
The purpose of the PEOPLE (Public Education Outreach Promoting the Law & Equity) Committee is to proactively inform and educate the public, including students, adults and members of news media, about the legal system. The Honorable Lyle Strom is Chair of the committee.
Under the PEOPLE umbrella are two committees: Civics Education and Bench Media. Civics Education is chaired by Judge John Gerrard, United States District Judge for the District of Nebraska. Bench Media is chaired by Nebraska Supreme Court Chief Justice Mike Heavican.
The Bench Media Committee is committed to ensuring a professional and positive working relationship among Nebraska lawyers, courts, and the media. The committee relies on the volunteer efforts of both the legal and media professionals.
Other completed and ongoing activities include the following:
Expanded news media coverage throughout the state with enhanced reporting on courts.
Amended the Presiding Judges Rule to allow judges experienced in dealing with the media to act as go-to resources for news reporters, as designated by the presiding judge.
Updated "News Reporters' Guide to Nebraska Trial Court Procedures." The resource to assist in writing news stories is available at Nebraska State Judicial Branch
The Media Representatives created a Camera Pool Coordination Ad Hoc Committee that worked on streamlining pool coverage for high profile cases.
General protocols have been established at pretrial motions and hearings. The protocols will be reviewed now that we have passed the 5-year mark of cameras in the courtroom.
 Credentialing media representatives was enhanced through the use of a rule review for everyone who requests camera credentials.
The Court pivoted during the pandemic to keep the courts open through the use of technology. The technology was a cost savings to the counties from both a staff time perspective and travel expenses. The administrative office is reviewing technology that has worked, and what hasn't. This committee will review and assist with enhancing the use of all new equipment.
The Committee had petitioned the Legislature to change the law to allow video conferencing to be recorded-this was necessitated by an artful wording of the original statute. As a result of the change, news reporters are allowed to come into the courtroom with still and broadcast cameras to photograph individuals who appear in court from the jail and correctional facilities.
An educational Reporters Session was offered to assist the media with understanding the courts and judiciary as a whole: "How to Report on Nebraska's Trial Courts 2022." The session was the result of years of relationship building with the UNL College of Journalism. Earlier education sessions include a "pop-up" 1 credit hour course during the interim in 2019 and an appellate-level session that same year with Judge Riko Bishop entitled: "Pop-Up Student Journalist Class at Nebraska Supreme Court-Nebraska's Appellate Level Court."
An example of the Bench Media Committee's work is shown in the photos below from a pop-up class, Covering Nebraska Trial Courts, offered by the UNL College of Journalism and Mass Communications. The class was conducted at the NU College of Law. Pop-up classes provide 15 hours of instruction and one academic credit hour to UNL-enrolled students. "Pop-up classes provide students with a deep dive into new skills and new thinking, furthering our college's goal of producing career-ready, digitally-fluent professionals who can hit the ground running," said Amy Struthers, CoJMC Dean.
Uniform Court Rules and Practices –
Working Group

Media Education –
Working Group

Judges & Court Staff Education –
Working Group

Co-chairs: Justice Jeff Funke - Supreme Court and Lori Pilger, Lincoln Journal Star
Co-chairs: Judge Todd Hutton - Sarpy County Court and Bill Kelly – NETV, Lincoln
Co-chairs: Judge Jeff Wightman, County Court, Lexington; Judge Gary Randall – Retired District Court, Omaha and Rose Ann Shannon – Retired KETV 7, Omaha
Judge John Rademacher, County Court, Kearney
Judge Elise White, Juvenile Court, Lincoln
Judge Rick Schreiner, District Court, Beatrice
Judge Leigh Ann Retelsdorf, District Court, Omaha
Judge Randin Roland, County Court, Sidney
Judge Stephanie Hansen, County Court, Omaha
Judge Derek Weimer, District Court, Sidney
Judge Tim Burns, District Court, Omaha
Dennis DeRossett, Nebraska Press Association, Lincoln
Sharon Kresha, Attorney, Omaha
Steve Guenzel, Attorney, Lincoln
Terry Waite, Attorney, North Platte
Shawn Renner, Attorney, Lincoln
Ron Krause, Attorney, Omaha
Paul Hammel, Nebraska Examiner, Lincoln
Melanie Whittamore-Mantzios, Attorney, Lincoln
Hunter Arterburn, News Channel Nebraska, Sidney
Matthew Hammes, Attorney, Omaha
Tom Riley, Attorney, Omaha
Mikel Lauber, 1011 Now, Lincoln and Central Nebraska
Gene Cotter, Ex-officio, Deputy Director of Operations, Nebraska Supreme Court
Jennifer Stehlik Ladman, Attorney, Pawnee City
Dave Schroeder, KRVN Radio, Lexington
 
Sheryl Connolly, Ex-officio, Trial Court Services Director
Jim Timm, President/Executive Director Nebraska Broadcasters Association
 
Todd Cooper, Omaha World- Herald
Doris Huffman, Ex-officio, Executive Director, Nebraska State Bar Foundation
 
 
Janet Bancroft, Ex-officio, Public Information Officer, Nebraska Supreme Court
 
 
 
 
Resource Members:
Judge Lyle Strom, Retired District Judge of the U.S. District Court for the District of Nebraska, Omaha (Emeritus)
Chief Judge John Gerrard, District Judge of the U.S. District Court for the District of Nebraska, Lincoln
Chief Justice Mike Heavican, Nebraska Supreme Court
Judge Susan Bazis, United States Magistrate Judge
Judge Jim Doyle, District Court, Lexington
Judge Paul Korslund, Retired District Court Judge, Beatrice
Corey Steel, Ex-officio, Nebraska State Court Administrator
Dave Sommers, Ex-officio, OBA Executive Director
Updated 7/13/2023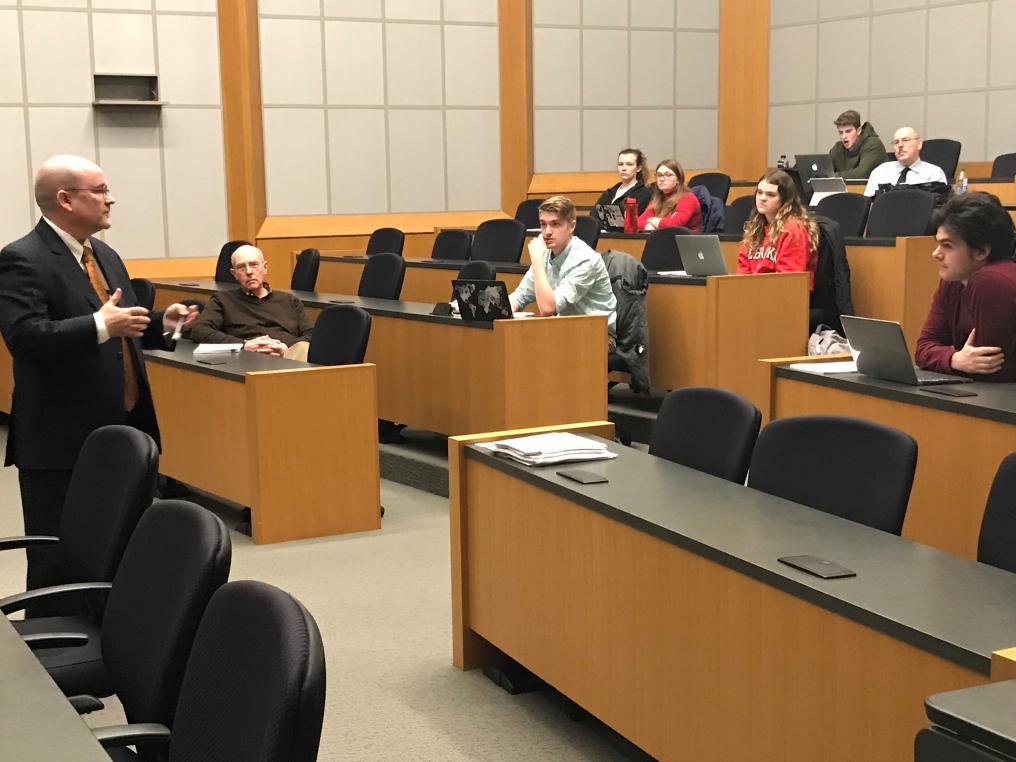 County Judge Todd Hutton, 2nd Judicial District, discusses the importance of portraying the legal system accurately with UNL students at a pop-up class offered by the College of Journalism and Mass Communications at the NU College of Law.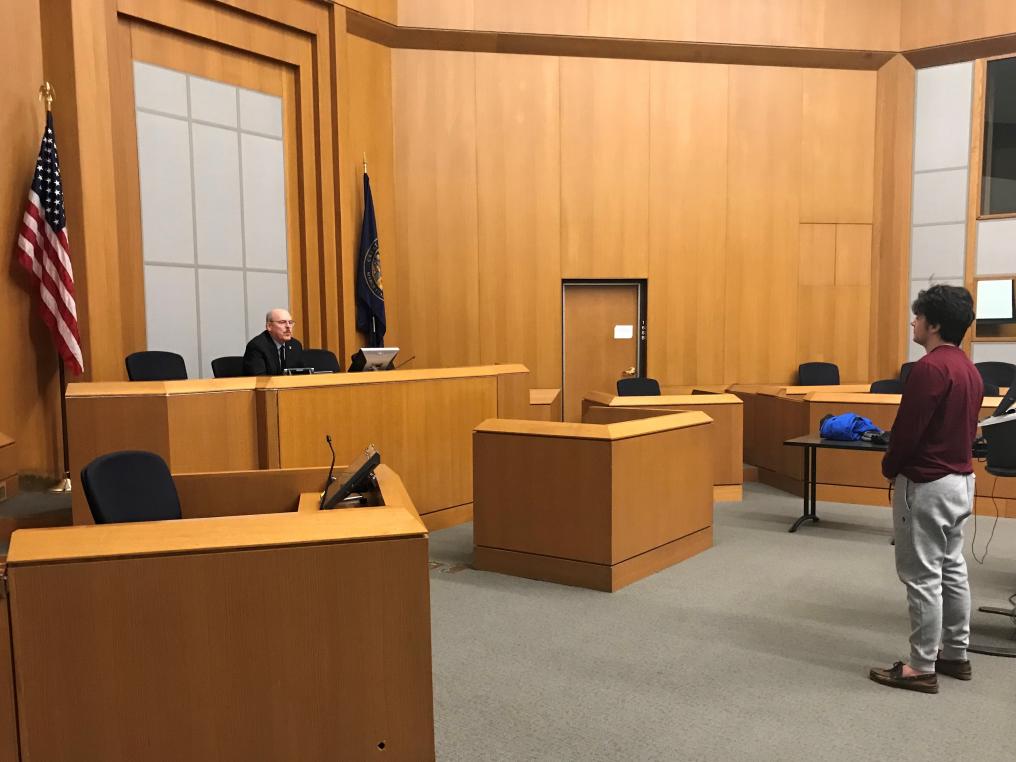 Retired Holt County Judge Alan Brodbeck conducts a mock bond setting hearing and arraignment for students enrolled in a one-credit pop-up class at the UNL College of Journalism and Mass Communications. The course was held at the NU College of Law.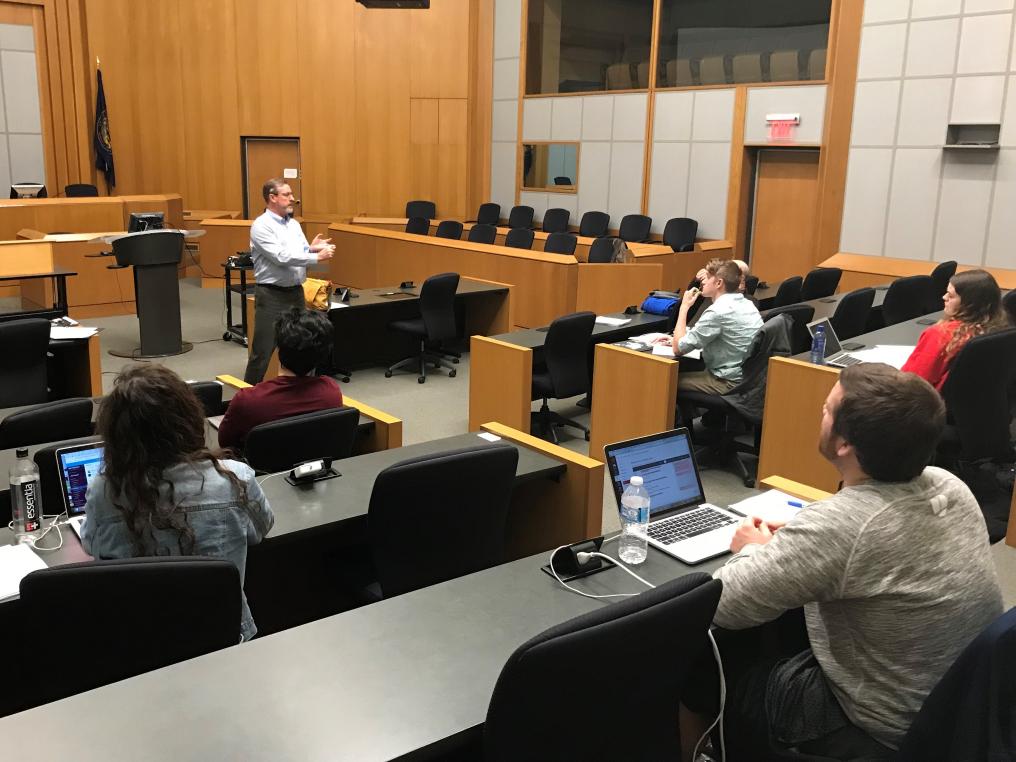 Attorney Todd Lancaster discusses the importance of portraying the legal system accurately with UNL students at the NU College of Law.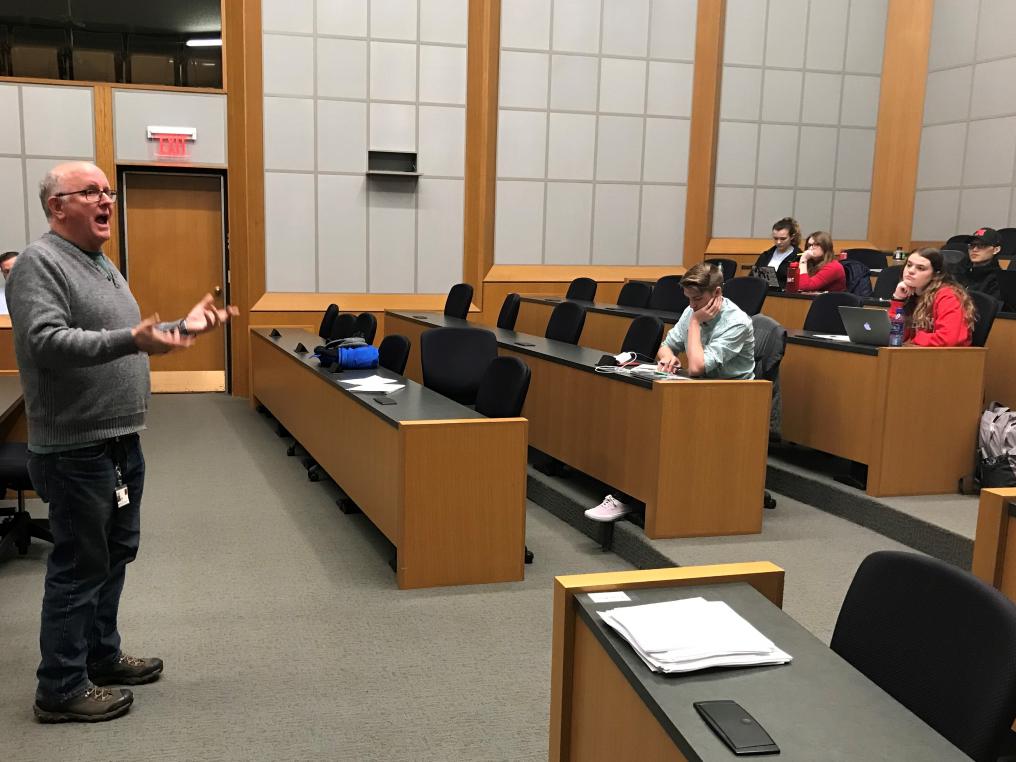 Journalist Bill Kelly, a member of the Bar Foundation's Bench Media Committee, talks with UNL students about where to find background information for stories as part of a pop-up class on covering the courts offered by the UNL CoJMC at the NU College of Law.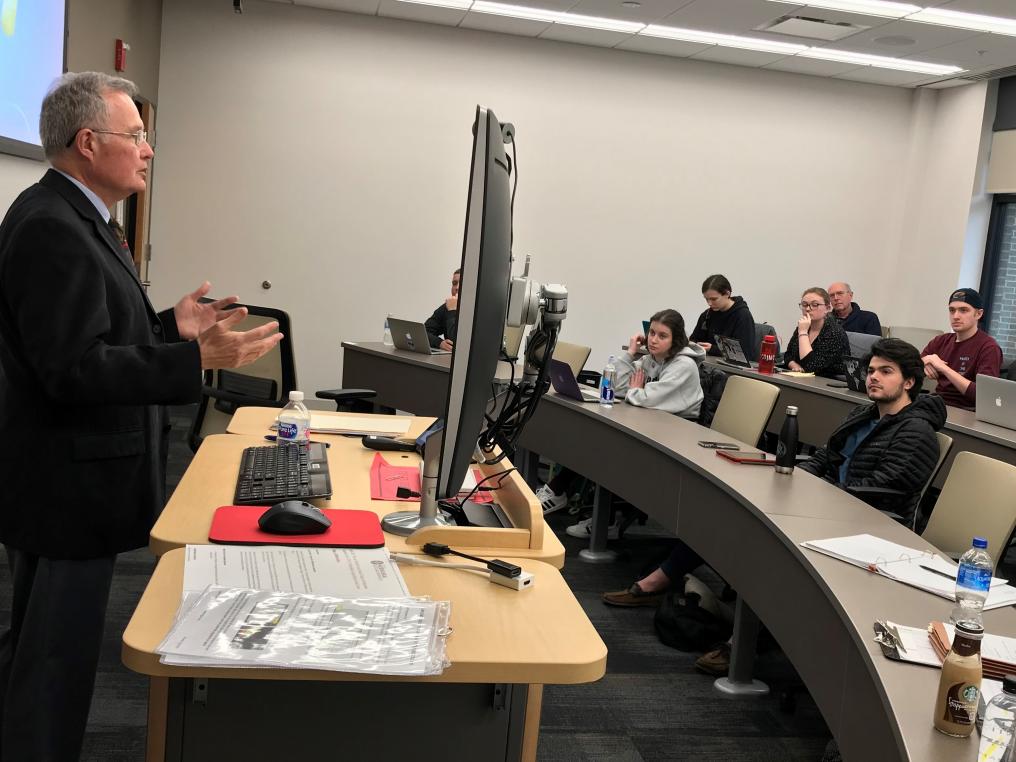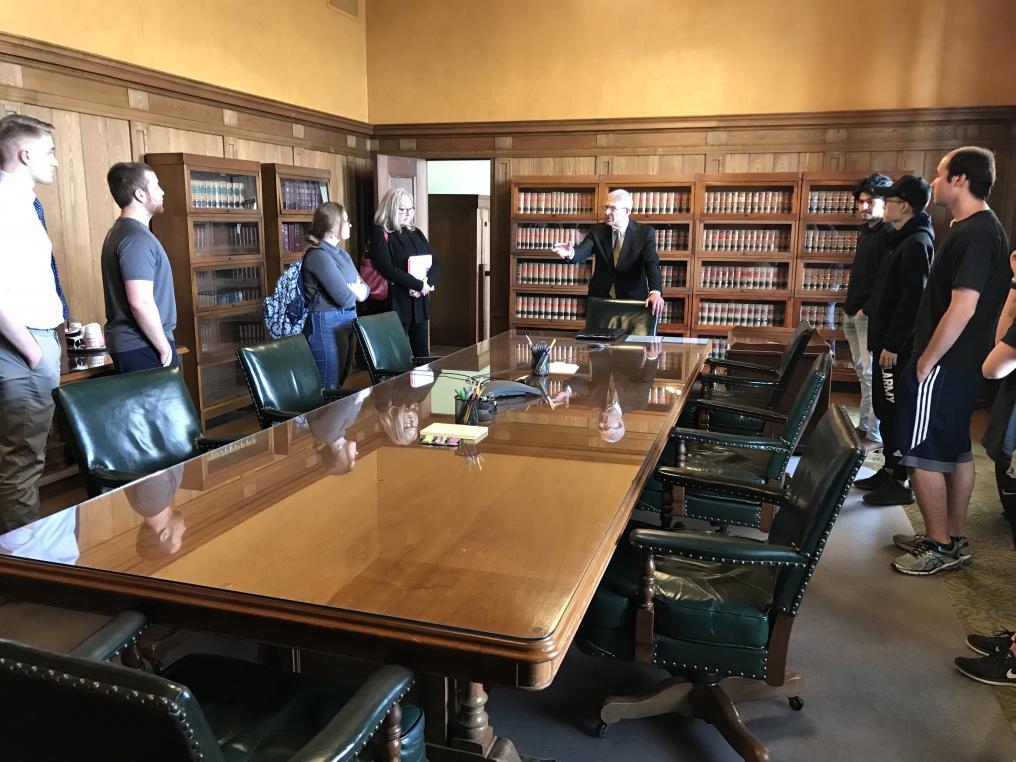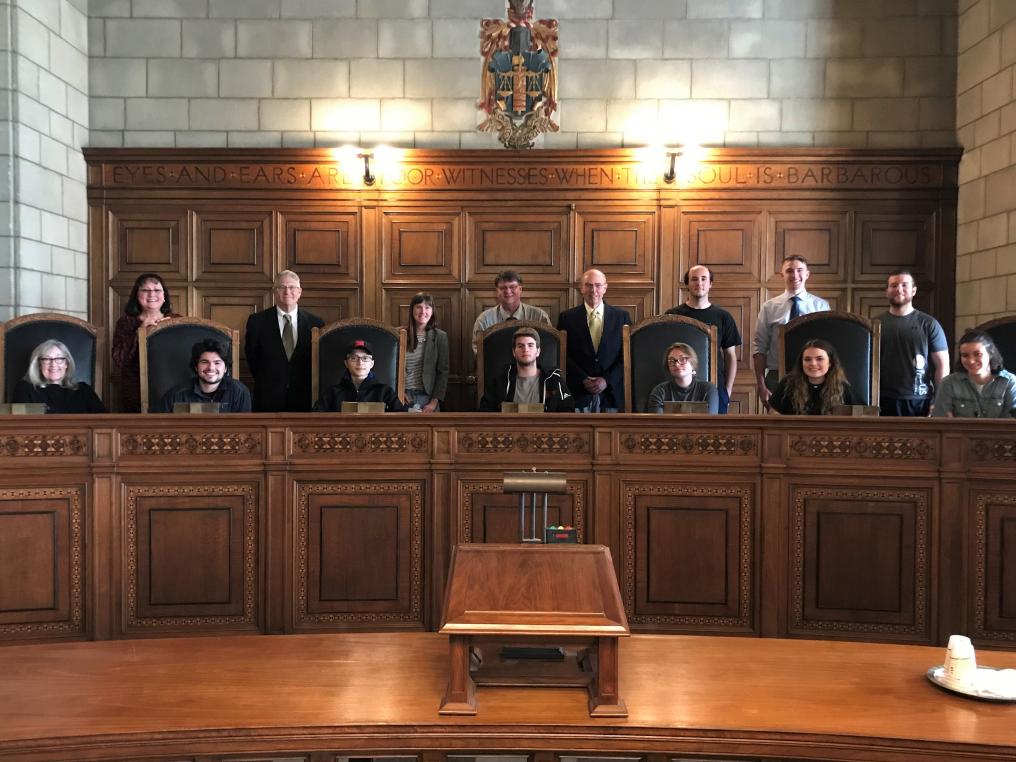 UNL students in a CoJMC pop-up class on the Nebraska courts sitting and standing by the Justices's seats in the Nebraska Supreme Court Chamber. With the students are, back row, from left, Justice Riko Bishop; Chief Justice Mike Heavican; Lori Pilger, courts reporter for the Lincoln Journal-Star; Dave Schroeder, news director KRVN Radio,  Lexington; John Bender, professor, UNL College of Journalism and Mass Communications. Front row, far left, Rose Ann Shannon, retired KETV 7, Omaha.